Alia Bhatt and Ranbir Kapoor Welcome Baby Girl
Alia Bhatt and Ranbir Kapoor welcome new member in family. They both are blessed with the baby girl on Sunday i.e November 6,2022.
Early in the morning Alia Bhatt admitted to the hospital and soon the good news came in. There is very cherish and happy mood in the Kapoor family. Everyone from the industry sending their wishes and love to the couple.
Alia and Ranbir got married in April in this year and in June they shared that they are going to be parents very soon. Alia also shared the picture of her with Ranbir Kapoor while ultrasound procedure is going on. Everyone was shock to know that Alia took this decision at the early stage of the career and many of her knows also appreciated her and wishes her good luck.
As soon as this news came out, people and fans started wishing them. There are thousands of tweets congratulating couple for the new beginning. This is one of the post she posted on the Instagram after the birth of the baby girl.
After the news many celebrites Akshay Kumar, Karan Johar, Anushka Sharma and many others wishing them all the best for next phase of their life.
Katrina Kaif, Ritesh Deshmukh,Bipasha Basu and Deepika Padukone also written Congratulations in the comment section to wish them all the best.
Alia Bhatt Shared Post On Instagram
She shared this news on the Instagram by posting an image of the tiger family. As you can see the image below: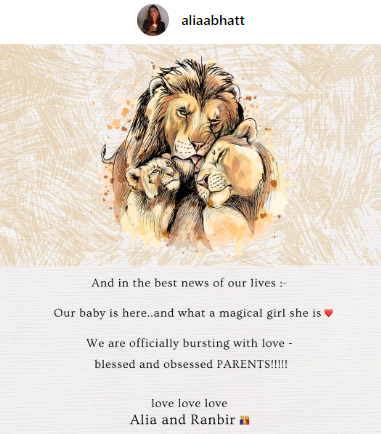 Alia further added in her post that this is the best news of their lives and now they are officially parents now. They both enjoying this moment and feeling very blessed to have magical girl in their life. She ended her post from love from both parents to their loved ones.
Baby Name Of Alia Bhatt
Now the curiosity is rising among the fans to know the name of the girl which will be done after the "Namkaran". Fans will be waiting to the know of the girl.